I'm always inspired by the treasures that my clients have introduced me to, such as using more textiles to finish a certain room. Cruelty-free decor and environmentally safe products are always a plus, especially with very aware people.
Kantha, simply meaning patched cloth, textiles are a great way to get that certain, relaxed look while giving back to the world by supporting the Bengali women who sew them.  At Dignify, we found some  textiles to complete the bedding in this boho-contemporary Santa Barbara beach condo.
We wanted at least 3 patterns to mix up for the bed cover. Here are some of the Katha's we chose from: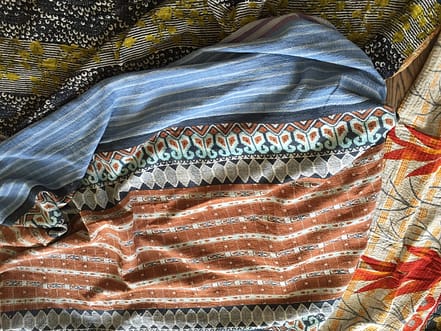 For a restful, light-weight (earthquake country) wall hanging over the bed we picked this Marimekko textile. We sewed a casing at the top and finished off the hem and sides. Popped into Bed, Bath & Beyond to get the right rod to hang it.
I love this Lari Pittman  "Go Girl"  silk scarf from MOMA, but since I'd rather look at it than wear it, I framed it.
G-NCPL6K3Y0X